Facebook Marketing Webinar Training
Today's the day we've been waiting for!
We could not wait to show you how to use these Brand New 1-Click FB Mobile Ads that gives you your prospect's REAL and most used email address!
Happens TONIGHT @ 9PM EST on the LIVE MLSP Training Webinar…FEATURING our Facebook Insider who's gonna spill the beans on all of it!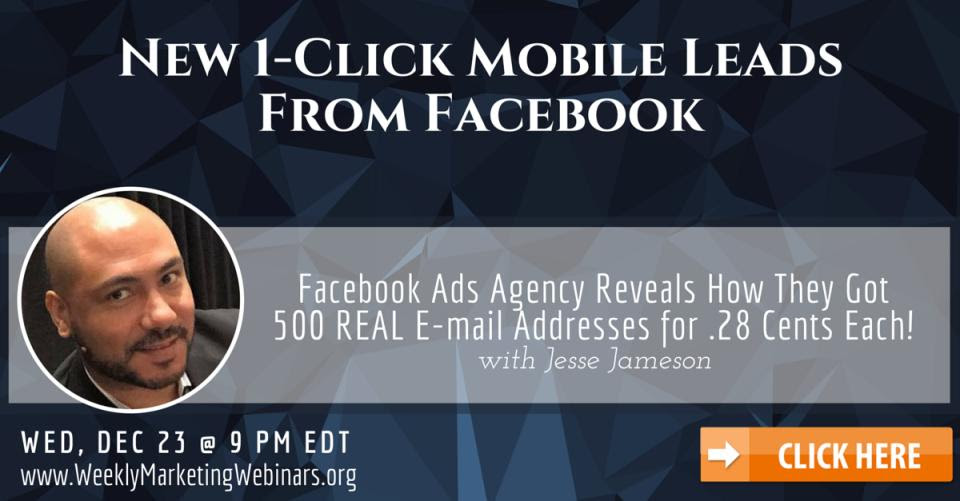 = => Click Here to Get Registered Right Now!
Here's what goes down TONIGHT @ 9PM EST…
* New FaceBook mobile ads allow you to collect e-mails with 1 click without them ever having to physically enter their e-mail (this boosted our conversions 10-fold)
* 100% of all the emails you get from this strategy are your prospect's BEST e-mails  (because they are e-mails linked to their FB accounts!)
* We'll unveil the exact offer, funnel, and ads we used to Rake in 500 leads for $140 with this new mobile leads platform.
* BONUS: if you have a networking biz where you can give away samples, or any type of physical product, we'll show you how to get paid right inside FaceBook.
Imagine What Your 2016 Lead Flow Is Going to Look Like Now!…